Most event professionals have witnessed countless events and conferences unfold in various venues across the globe. While these gatherings serve as platforms for knowledge exchange, networking, and professional growth, the choice of a venue plays a crucial role in attendees' overall experience. Opting for buildings with ample daylight is an enlightened choice that offers numerous benefits.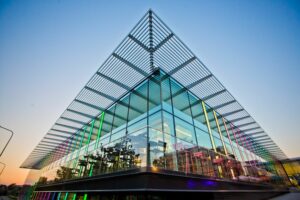 The pivotal role of natural light
The choice of venue for events and conferences should not be taken lightly, as it can significantly impact attendees' mental health and overall experience. Opting for buildings with ample daylight is an enlightened choice that offers numerous benefits. From enhancing mood and productivity to reducing stress and anxiety, improving cognitive function, encouraging physical activity, and fostering connectivity, natural light plays a pivotal role in creating a positive and enriching event environment.
Glass shell
The MECC conference centre in the Dutch city of Maastricht is an example of such a daylight-rich venue. A few years ago, during a renovation and expansion, a glass shell was built around it. This brings much more light, open space and connection with the outside world. The main conference centre consists of three multifunctional floors which are interconnected, allowing visitors to flow and spark social interaction. Experience a virtual tour here.
World Congress Women's Mental Health
Debby Tucker, the Executive Director of the international association for Women's Mental Health was one of the first to experience the benefits of the rebuilt MECC. Her 9th World Congress took place in the MECC in Maastricht. Debby Tucker: 'The quality and layout of the meeting space in the MECC was outstanding. The Auditorium was perfect for our plenary and large symposia. The breakout rooms on the lower level allowed us our largest number of concurrent parallel sessions (9) in a configuration that allowed movement easily within the space. I would recommend this venue and city for any international Congress.'
Bright minds
More and more event organizers and planners take responsibility to prioritize the mental well-being of our participants. By selecting venues that harness the power of natural light, they create spaces that not only facilitate learning and collaboration but also promote mental health and overall satisfaction. In an era where well-being is paramount, choosing daylight-rich venues is a choice that enlightens the path to more successful and fulfilling events and conferences.