Staying Relevant by Innovating the Core of Your Association
Thursday, June 17 2021 | 12:00 – 1:30 PM EST | 9:00 – 10:30 AM PST | Webinar Maastricht 
Join Innovation Expert, Damien Nunes from the Maastricht University and his panel of esteemed guests as they discuss various theories, models, and best practices for inspiring innovation within your organizations.
Sign up here
Get to Know your Host and Guest Panelists: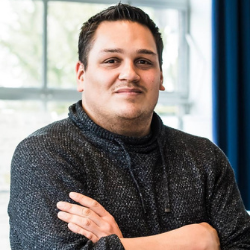 Damian Nunes
Host, Damian Nunes, is a project leader, trainer and service designer at the University of Maastricht. Damien focuses on improving and developing new service propositions and strategies for companies by taking a holistic design perspective and approach. Furthermore empowering others to engage in innovation trajectories by sharing knowlegde, skills and perspectives.
Prof. Dr. Erik Biessen
Panelist, Dr. Erik Biessen, is full professor in Experimental Vascular Pathology at Maastricht UMC+ Hospital.  He was chair of the annual conference of the European Atherosclerosis Society (EAS) in Maastricht in 2019, which with 2.000 visitors and an extended expo, is the largest Cardiovascular Congress in Europe.
Prof. Dr. Pamela Habibovic
Panelist, Dr. Pamela Habibovic, is a Full Professor of Inorganic Biomaterials. She is a co-founder and the Scientific Director of MERLN Institute for Technology-Inspired Regenerative Medicine at Maastricht University and is currently the President of the European Society for Biomaterials (ESB). In 2018, she was the chair of the Annual Conference of ESB that took place in Maastricht, with more than 1,000 participants.
Have we aroused your interest?
We hope you have become excited to participate in our Assocation Knowledge Mixer. To register, simply click on the button below:
Sign up here